PCC News
Conflict Free Minerals Policy
Gold, Tantalum, Tin, and Tungsten are not knowingly contained in any of Pacific Cargo Control, Inc.'s products, nor are they necessary for design or performance criteria of any product. The non-scrap and non-recycled portion of the metals does not originate from, or transit through, the Democratic Republic of the Congo or any adjoining country: Angola, Burundi, Central African Republic, The Republic of the Congo, Rwanda, South Sudan, Tanzania, Uganda, or Zambia.
Our suppliers are surveyed on an ongoing basis, and as of the date of this policy statement, none of our products contain conflict minerals.
Click Here to View Policy
---
NEW Combo Ratchet Winch Bar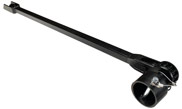 Pacific Cargo Control, Inc. is pleased to announce that we now offer the 7005-R Combination Ratchet Winch Bar (U.S. Patent # 7,410,334). The winch bar is affixed to the standard winch end cap on either right hand or left hand winches. It allows the user to tension tie-down straps more efficiently and effectively in less time by automating the rotation of the winch and reduces the operating costs. Please read the product Warning and Operating Instructions. For additional information, please contact a PCC sales representative at 800-821-8431 or email to sales@pac85.com.
---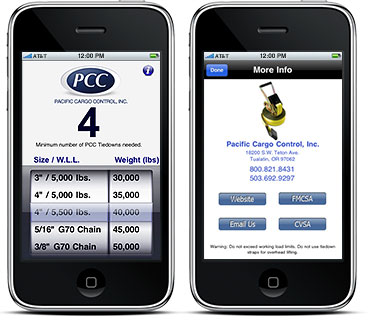 PCC iPhone App: Tie Down Calc
Pacific Cargo is proud to announce the availability of Tie Down Calc, a simple application for the iPhone that calculates the correct number of PCC tie downs to use for a particular load. Available in the iTunes store. Download the app
---
Association of American Railroads Certifies First West Coast Test Laboratory
Major Railroad Product Suppliers Are Specifying Accredited Companies
FOR IMMEDIATE RELEASE
Pacific Cargo Control, Inc. (PCC) announces that its Tualatin, Oregon testing facility has received the Association of American Railroads (AAR) Laboratory Certification. The facility and personnel demonstrated their capability of meeting or exceeding all of the necessary requirements in the AAR's qualifying testing for polyester webbing and web tie-down assemblies. Pacific Cargo Control's Tualatin, Oregon test lab was assigned a distinctive AAR marking, (AAR-75L), which identifies Pacific Cargo Control's certification. The "L" in this marking indicates this facility as an AAR approved web test laboratory. This certification will remain in effect through December 2014, as the lab continues to meet all AAR requirements necessary for such certification.
PCC adds this certification for its customers who are increasingly requiring assurance and stringent documentation of a product's strength and quality. "This demonstrates our company's philosophy and commitment to provide superior products through physical, on-site testing," said Kartavya Jain, Mechanical Engineer who oversees the PCC test lab. "Our ability to assemble, test and certify cargo tie downs used by Railroads is a service that PCC's distributors and customers can use to their advantage."
About Pacific Cargo Control, Inc. (PCC): PCC specializes in cargo restraint systems used in the Trucking, Intermodal, Marine, Government, and Agricultural Industries. PCC is Headquartered is in Tualatin, Oregon with warehouses and company sales representatives throughout the United States and Canada.
For additional information, contact: Pacific Cargo Control at 800-821-8431.
---
PCC Utilizes the Industry's First Electrophoretic Paint Process (EPP)
PCC's paint process gives each winch a superior paint job by coating the exterior and interior with a uniform thickness of paint. This process allows the paint and metal surfaces to join in an actual chemical bond. There is no other process which provides such a durable finish for exposed surfaces that take a beating from the elements and road debris.
Inside the mandrel where the strap is fed, the electrophoretic paint process deposits the coating in every hidden and recessed area of the winch. The gear and pawl rotate effortlessly now that conventional paint no longer gums them up. Best of all, PCC's electrophoretically painted winches are virtually scratch proof while our competitors' conventional paint scratches easily and flakes off. This process provides an exceptional corrosion-resistant, long-lasting coat which will keep a winch looking newly-painted long after it has been put into use.
The Electrophoretic Paint Process involves many detailed steps. First, the winches are shot blasted to smooth surfaces by removing weld spatter, incidental rust, burrs and other imperfections. Each winch is then dipped in a tank of caustic liquid (like a chemical rinse of sodium hydroxide). In this step, corrosion on the steel's surface is dissolved or eaten away by chemical action. The winch is then dunked in a tank of untreated water to aid in rinsing away the caustic wash.
Then, the winch is dipped in a phosphatizing tank. This phosphorus bath protects metal surfaces from corrosion and helps the paint coat the surface of the winch. The winch is then dipped in deionized water to help rid the winch of electrical charges and alkaline. Finally the winch is dipped in the electrophoretic coating tank. This process coats all the surfaces of the winch with paint.
After being coated, the winch is then rinsed in a tank of untreated water and runoff paint is recycled back to the electrophoretic coating tank. As a final rinse, the winch is then rinsed in a tank of reaction liquid. Each winch is then hung to drip and air dry. Finally, each winch is placed in a paint curing oven to seal the most lasting coat offered in the industry.